This much space in an A-Class under 7m? It's unique on the market!
The 6040 borrows the layout from our best-selling low-profile, the 640, with a 160-cm wide electric fold-down bed which can be accessed without a ladder. Amazing as these features are, it is the incredible living space that will really win you over: lounge, kitchen, bathroom, and wardrobe, all in just 6.99 m.
Strong points
Compact vehicle (- 7 m)
Hideaway bed 160 cm
Dressing over garage
Fabrics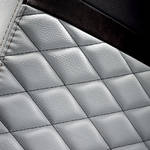 Prestige*
Titanium Premium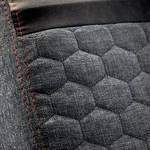 Antibes
Titanium Premium

Flores
First Line
Furnishings

Orfeo
Titanium Premium

Cosby
Body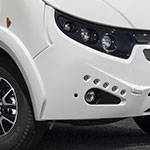 Fiat
6040
The essential
Manual cab air conditioning
Driver and passenger airbag
Swivel seats in the cab, with double armrests and adjustable height
Cab seat covers with matching cushions
Electric de-icing rearview mirrors
Cruise control and speed limiter
Prewired speakers for cab radio
Driver door with electric window
Eco pack: Stop&Start, smart alternator, electronically-controlled fuel pump
Built-in and insulated unit step
Heating 6000 W using vehicle fuel digitally programmed and used while on the road.
XL cell door (60 cm) with window
Double-locking windows with combined blinds/screens
100% LED cell lighting inside and outside
Atmosphere LED lighting on floor
Dining area convertible in extra spare bed
6040
more sophistication
9-speed automatic gearbox
Polyester side walls "Taupe gray" shade
Luxury entrance door with window and central locking cab/cell
Premium mattress main berth
Kitchen: Pan drawer, magnetic board, bottle rack, bin bag holder, illuminated backboard
Additional storage in the bathroom
Bathroom furniture with drawers
Specific fold-down bed dressing
Premium furniture and fabrics
Premium outside decoration
Pack + PREMIUM titanium premium
(Option)
Pack + Ultimate titanium premium
(Option)
Pack Arctic titanium premium
(Option)
Pack Accessory titanium premium
(Option)