An IRP structure

A major innovation for improved insulation, better resistance and greater protection.

A seven-year warranty… Who can top that?

Water tightness is a key feature of your motorhome; at Chausson it's guaranteed for seven years (with an annual check-up by a certified network member).
The extent of this warranty goes well beyond the standards of the profession. It's the best pledge of peace of mind that Chausson can give you.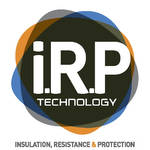 165 dealers to keep watch on your motorhome

Our network of dealers is made up exclusively of true recreational vehicle specialists who know Chausson backwards and forwards.
Chausson offers one of the market's most extensive and best-equipped European networks.
A vision of quality
Legendary SEITZ windows, the best choice

They're synonymous with outstanding practicality, excellent quality, easy handling and top safety because they can't be removed from the outside.

Panoramic cabin roof that can be opened for a breath of freedom

It's great for ventilation and even better for light…
At Chausson, well-being is also important.
Optimal storage, depending on the model

A full-width hold

Two, and even three, standard doors to make loading easier and more optimal.
For us, it's obvious.

A lowered hold

Your back will appreciate this handy storage solution that's easy on your muscles!

Reinforced chassis extensions in galvanized steel

The sturdiness of our motorhomes is no accident; it's the result of choosing strong materials.
For chassis extension, we use galvanized steel reinforcement that's more robust and long-lasting.

Lighting for the hold

Whatever the version line, all our garage holds
are illuminated.
Heating you can use on the road
You can use all our heating systems on the road with no constraints. This is ideal for your passengers and very handy for heating the unit before you stop for the night.
Chassis choice
An essential element for high-quality travel

At Chausson, we've chosen reference brands that are able to supply a specifically designed chassis for the motorhome, and we have a specially equipped after-sales network trained in the leisure vehicle market.
Easy accessibility
Easier access is not a minor detail; it's essential!

There's no need to unfold a step plate, it's built in, for a more stylish and handy access.

Just one key for the entire unit

You won't need a fistful of keys!
At Chausson:
just one key for the unit (main door and garage doors),
just one key for the carrier.
Comfortable fixtures
High-quality bedding

Easy Bed adjusts to the height you want

Most of our beds over garage holds (except for twin beds) can be height-adjusted over a distance of 30 cm.

Clever storage areas

Most of our beds over a hold can be raised for easier access to the storage areas.
Well-designed ventilation
Double ventilation

It doesn't take much experience with motorhomes to know that ventilation in the bathroom is essential.
At Chausson, all our bathrooms have both an opaque window that can be opened and a skylight in the roof.

Rigid shower partitions

Whatever the version, all our motorhomes are equipped with elegant rigid partitions, never with a PVC curtain.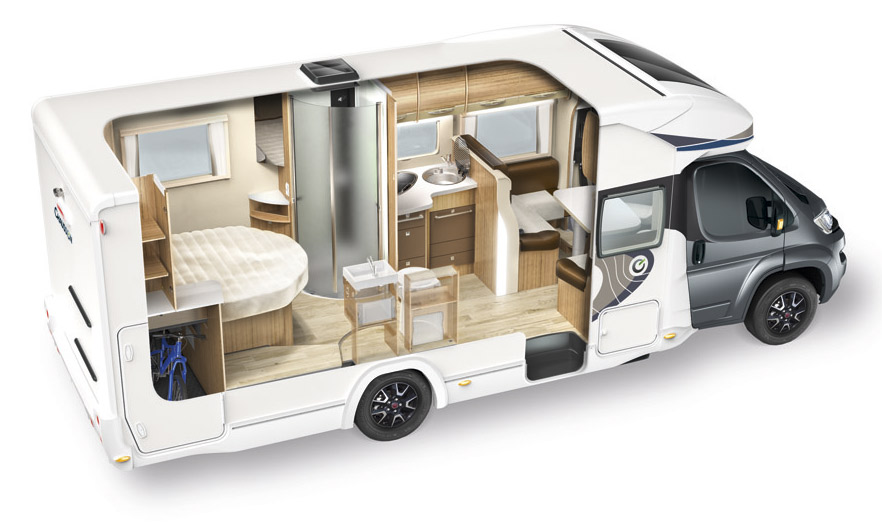 Useful pre-equipment
Standard bike carrier adapters

To avoid any risk of infiltration, bike carrier adapters are installed as standard equipment so that you won't have to drill holes.
All you need to do is choose your bike carrier!

Pre-cabling for a back-up camera

To reduce mounting time (and workshop costs), all our motorhomes are pre-cabled for a back-up camera you can order from your dealer.

TV pre-equipment

Whatever the version, all our motorhomes have at least one 230 V/12 V TV-antenna outlet.
Well-designed lighting
100% LED lighting on the inside

100% LED lighting provides ten-fold savings in energy and a product lifecycle that is thirty times longer. A bright choice for you and the planet!

Night lighting

Night lighting is designed for a cozy atmosphere and for your safety with built-in LEDs near the floor.
High-end seating
The foam in our cushions has been specially designed to offer firm seating comfort (without sagging over time) and high-quality, resilient support for your back.
For greater passenger comfort, each road seat is equipped with a height-adjustable headrest.
Solutions for greater comfort
Drawers won't slam shut

Whatever the version line, all our drawers have cushioned closing and latches to avoid accidental opening when you're on the road.

Adjustable living room table

For easier circulation and greater comfort in the living room, all our low profiles have a central table that can be adjusted in height (telescopic pedestal), longitudinally and crosswise.

A maxi refrigerator is NEVER an option

Only some of our compact models (less than 6 m) don't have one, simply because it's not technically possible to install one.
* For most of our overcabs, low profiles and A-Class.