Smart concentrate in less than 6 meters
This is the big brother of V594S, designed here in a 5.99-meter version offering a maximum of space and the possibility of a spare bed for a child. A clever bathroom (with shower, washbasin and toilet) and spacious rear bed, which can be raised for more space.
Certainly one of the most tested (and approved) layouts on the fitted van market.
Strong points
Bathroom with window
Rear removable bed
Clever storage
Body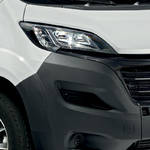 Blanc Pare-chocs noirs
First Line & Sport Line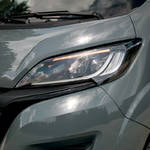 Lanzarote
Road Line Premium & Road Line VIP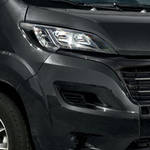 Noir – Fiat*
Road Line Premium & Road Line VIP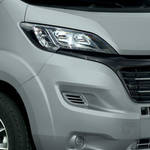 Campovolo*
Road Line Premium & Road Line VIP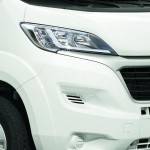 Blanc – Fiat
Road Line Premium & Road Line VIP
Fabrics

Pescara
Road Line Premium

Bergamo
Road Line VIP & Sport Line

Napoli
First Line
Furnishings

Hermitage
Road Line Premium

Okasha
Road Line VIP & Sport Line

Trendy
First Line
V594
The essential
Glossed cab front gril/black bezel lamps
Gas heating
Manual cab air conditioning
Driver and passenger airbag
100% LED lighting inside
Eco pack (Stop&Start, smart alternator, electronically-controlled fuel pump)
Dining area table extension
16" alloy wheels black
Panoramic skylight 700x500 mm
Electric step
Solar panel
Prewired speakers for cab radio
USB ports
Cruise control and speed limiter
Electric de-icing rearview mirrors
Bathroom with window
Awning
Exterior table stand
Traction +
V594
more features
Châssis 3T5 light
Heating using vehicle fuel digitally programmed and used while on the road
Cabin colour white
Exclusive exterior decoration
Dining area table extension
Large sliding kitchen drawers
Reinforced insulation "VPS"
Electric step
Maxi Cab
Exclusive furniture and fabrics
Wardrobe
Painted door handles
Preset reversing camera
Rear additional storage
Bathroom with folding partition
Bathroom with window*
Exclusive fabrics SPORT
Exterior table stand
TPMS : Tire pressure measurable system
V594
more sophistication
Bedsystem
Wooden shower duck board
Premium outside decoration
Extra LED lighting
"Cornering" Fog lights
Extra mirror
Premium furniture and fabrics
Coded front bumper
Premium kitchen countertop
Wraparound cab blinds
Folding specific dinette table
Leather-encased steering wheel and gearshift
V594
Fully equipped compact models
Exclusive cab front gril black
Châssis 3T5 light
Heating using vehicle fuel digitally programmed and used while on the road
Manual cab air conditioning
Cabin colour white
Exclusive exterior decoration
Driver and passenger airbag
100% LED cell lighting inside
Eco pack: Stop&Start, smart alternator, electronically-controlled fuel pump
Dining area table extension
Double-locking windows with combined blinds/screens
"Cornering" Fog lights
Large sliding kitchen drawers
Cab seat covers with matching cushions
Reinforced insulation "VPS"
16" alloy wheels black
Panoramic skylight
Electric step
Maxi Cab
Exclusive furniture and fabrics
Engine 140 HP
Flyscreen door
Wardrobe
Painted door handles
Preset reversing camera
USB ports
Rear additional storage
Cruise control and speed limiter
Fuel tank capacity 90 L
Electric de-icing rearview mirrors
Bathroom with folding partition
Bathroom with window*
Exclusive fabrics SPORT
Swivel seats in the cab, with double armrests and adjustable height
Exterior table stand
TPMS : Tire pressure measurable system
Traction +
Pack Arctic
first line

(Option)

road line vip

(Option)

road line premium

(Option)

sport line

(Option)
Pack Connect
road line vip

(Option)

sport line

(Option)
Pack Visibility
road line vip

(Option)

road line premium

(Option)
Pack + PREMIUM
road line premium

(Option)
Pack + Ultimate
road line premium

(Option)
*Option: Dining area convertible in extra spare bed