The van with a large garage hold and a large sleeping area
Until now, van owners had to choose between a garage hold and sleeping space. The V690 has both a veritable garage hold and a generous XXL sleeping area. Its secret? An electric fold-down bed (above the garage hold) which can be accessed without a ladder when the garage hold is not in use.
Strong points
Hideaway bed 190 x 190cm
Maxi garage
Bathroom with window
Body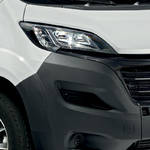 Blanc Pare-chocs noirs
First Line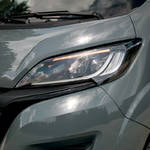 Lanzarote
Road Line Premium & Road Line VIP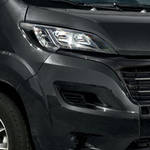 Noir – Fiat*
Road Line Premium & Road Line VIP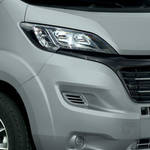 Campovolo*
Road Line Premium & Road Line VIP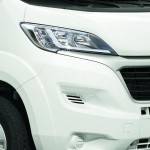 Blanc – Fiat
Road Line Premium & Road Line VIP
Fabrics

Pescara
Road Line Premium

Bergamo
Road Line VIP

Napoli
First Line
Furnishings

Hermitage
Road Line Premium

Okasha
Road Line VIP

Trendy
First Line
V690
more features
Manual cab air conditioning
Driver and passenger airbag
Cruise control and speed limiter
Electric de-icing rearview mirrors
Prewired speakers for cab radio
Panoramic skylight 700x500 mm
Dining area table extension
Eco pack (Stop&Start, smart alternator, electronically-controlled fuel pump)
Glossed cab front gril/black bezel lamps
Cab seat covers with matching cushions
Heating using vehicle fuel digitally programmed and used while on the road
Large sliding kitchen drawers
Bathroom with folding partition
Specific exterior decoration
Specific furniture and fabrics
Reinforced insulation "VPS"
V690
more sophistication
Feux antibrouillards avec fonction cornering
Leather-encased steering wheel and gearshift
Folding specific dinette table
Premium kitchen countertop
Premium furniture and fabrics
Premium outside decoration
Pack + PREMIUM road line premium
(Option)
Pack + Ultimate road line premium
(Option)
Pack Safety road line premium
(Option)
Pack Arctic road line premium
(Option)
Pack Accessory road line premium
(As standard)
Pack Visibility road line premium
(Option)